Will you escape?
We have received a shipping container, in which a set of plans has been hidden away. We need you, and your team of top code cracking agents, to work through riddles and puzzles to retrieve the plans. You have one hour upon entering to solve all the puzzles and escape with the plans!
Please note: Our Escape Room is best suited to adults and teenagers, it not suitable for children parties. Young children may attend as a part of a family group. For children 13 years and over, it is ESSENTIAL that an adult (over 18) accompany the children in this challenge.
Email us to book, info@oakerwoodleisure.co.uk.
Occasionally our Escape Room is available to book through our online booking system but if there are no dates available or none that suit you, please email us or complete the enquiry form below and we'll get you booked in!
Do you dare to take on the challenge?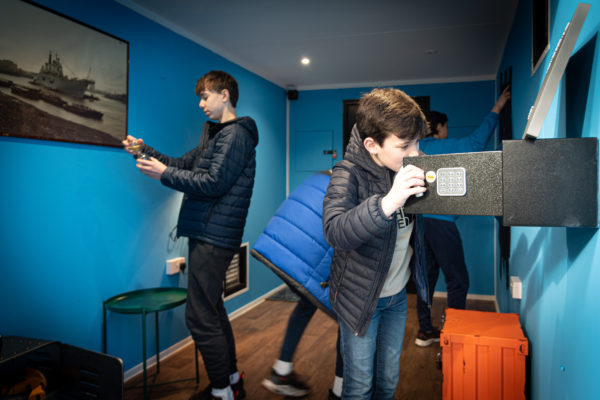 Escape Room for groups
Our Escape Room is ideal for groups of 5 or 6, or 7 people (if you are booking children in, we advise that they are accompanied by an adult).
Challenge your mates to see who can get out quickest! Who would you want to be stuck in our Escape Room with?!
A great challenge for families and groups of friends, perfect for stag and hens, and great for corporate team building! See who shines in this brand new challenge!
£100 for a group of 5 (or less)
£115 for a group of 6
£125 for a group of 7
If you can't see a date to suit you, please contact us using the form below.
____________________________________________________
Please note: For children 12 years and under an adult (over 18 years) MUST accompany them in this challenge. For children 13 years and over, we recommend an adult (over 18) accompany the children in this challenge.
Make an Enquiry
We appreciate that there is a lot to take on board when visiting us at Oakerwood, so if you'd rather talk it through please feel free to call us, or send us an email here and we'll get back to you with options…