Secondary Schools & FE Colleges
Multi or single day… we've got something to write home about
We specialise in providing bonding/ team building activity days. These often form part of a school's induction programme for new students in years 7, 9 or 12 or as part of an end of year activity and enrichment week.
Starting a new school can be a big hurdle for many students, this transition is often made easier when schools offer the opportunity to bond with new peers when attending an off site activity day or residential in the Autumn Term.
Oaker Wood specialises in Team Building away days, encouraging young people to work together in teams, meeting students who may not be in their forms or academic lessons.
Depending on the size of your year group cohort we can offer a range of activities.
popular team building day combinations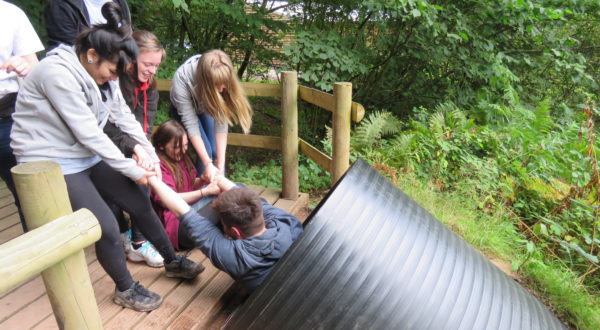 Low Ropes Borneo Assault Course
A half day activity encouraging Fun Team Building. Students are divided into groups of approximately 10 and with their Oaker Wood instructor take on a variety of challenges along our Borneo Low Ropes Assault Course. Fantastic for encouraging  students to work together, improving communication, team work and leadership skills.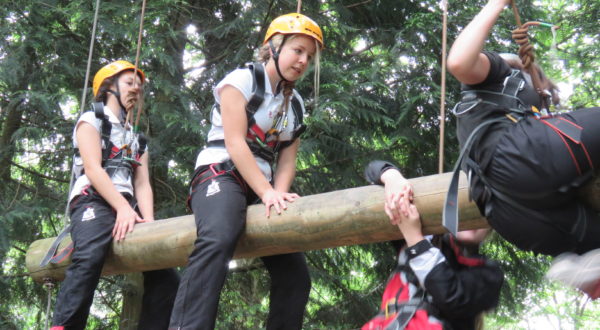 High Ropes & Zip Wire
Our High Ropes Team Building challenges encourage students to work as a team to achieve the goal. Jacobs Ladder, High All Aboard and Crate Stacking are all Team Building challenges, where as Zip Wire & Monkey Climbing allow each student to overcome their own personal goals.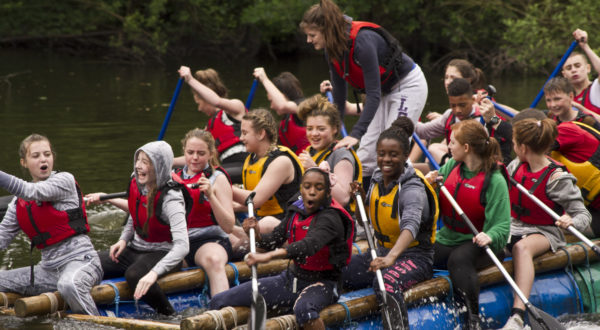 Rafting
Rafting is one of the highlights of a visit to Oaker Wood especially for schools staying on site with us as the session is often followed by camp fire & hot chocolate.
In addition to learning some key water safety skills there are plenty of races, games and, for those that wish to, a wild swim in the lake.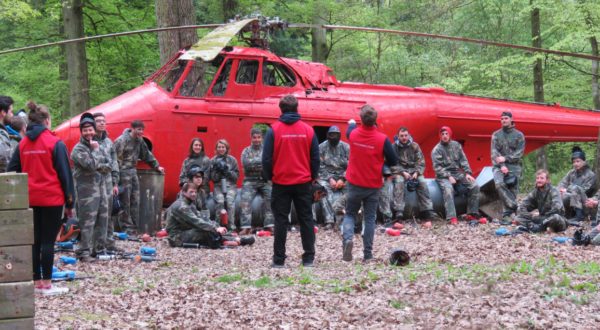 Paintball
Our paintball zone is the most established in the area. Students love our realistic combat zones include trenches, bunkers, a bus and a helicopter.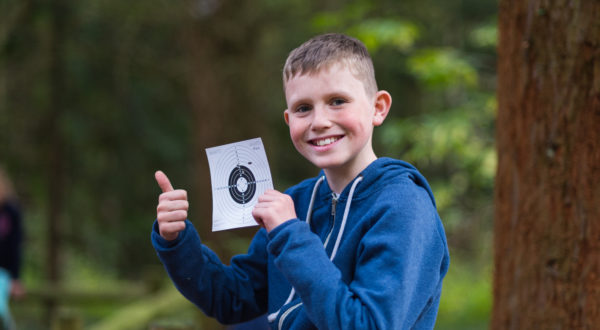 Target Shooting
Children can experience pistol shooting in a safe environment. Hit the targets & knock over the cans are just two of the games we play.
Depending on the age of the children we also offer rifle shooting.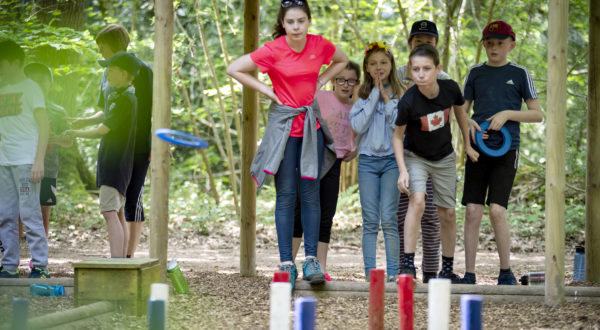 Woodland Krypton
Set along a trail through mature Oak trees, The Woodland Krypton is a circuit of challenges. Each team must complete the tasks that lie ahead of them, scoring points along the way
The tasks vary depending on the age of the group as we can adapt this activity depending on the aim of your activity day.
An overnight residential is a fantastic way to make new friends. We specialise in Residential Camps for Year 7, at the start of the Autumn Term.
We have 2 completely separate Glamping Villages so each school has exclusive use of a village, no sharing facilities with other schools. Each village sleeps up to 60 children. For larger groups both villages can be booked together with the communicating gates opened.
ACCOMMODATION
Accommodation is in Wooden Glamping Pods each sleeping between 4 and 8 on bunk beds. Pods have electric lighting and heaters for the colder months.
Each Village has a covered communal dining area where you can opt for catered/self catered or a mixture of the two.
At the heart of each Glamping Village is our fire circle. Toasting marshmallows, teachers 'Would I Lie to You' and telling ghost stories all make great memories of an Oaker Wood Camp.
Sample 2 Day Itinerary
Day 1
11am
Arrive at Oaker Wood- Camp Induction
1pm
Borneo Breakout Low Rope Challenge
7pm
Camp fire & School Activity
Day 2
9.45am
Monkey Climb/Zip Wire
We come to your school
Save on coach costs and we can come to you.
We will bring our It's a Knock OUT & Total Wipe Out course to your school playing field or sports hall.
Great for induction days, transition days, inter-house competitions or end of term reward days.
Tell me more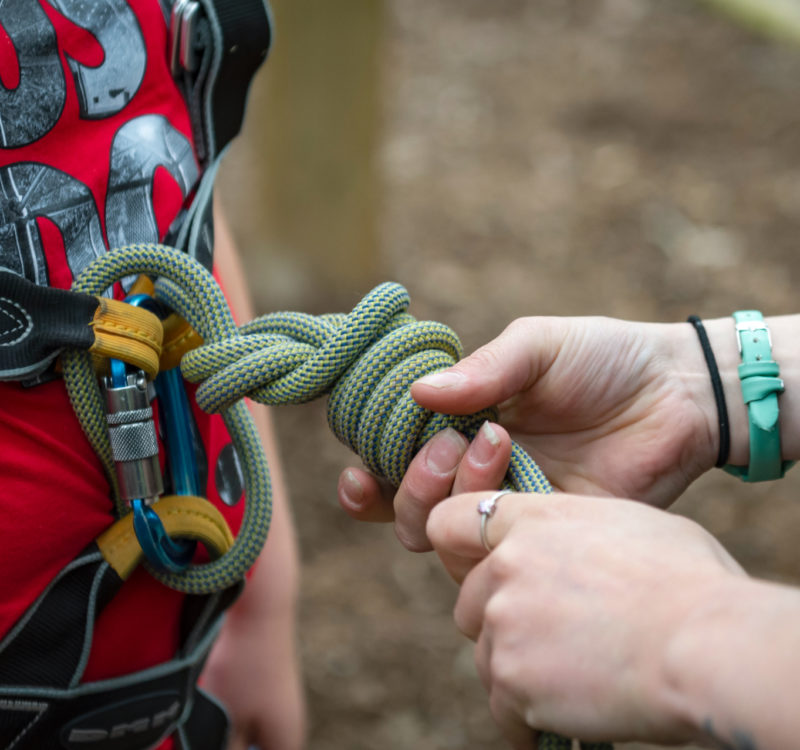 Your Safety
QUALIFICATIONS, CERTIFICATES & ACCREDITATIONS
All of our staff are DBS checked and all senior instructors hold a 1st Aid Certificate.
Staff follow a rigorous in house training programme and our High Ropes Instructors hold ERCA qualifications (European Ropes Course Association). Throughout the year we operate a continual monitoring programme to ensure consistent performance across our staff team.
We are members of the Council for Learning Outside the Classroom (LOTC), Association for the Heads of Outdoor Centres (AHOEC), UK Paintball Sports Federation (UKPSF), and hold the Adventuremark Accreditation.
On booking we will provide you with all Risk Assessments and Insurance details.